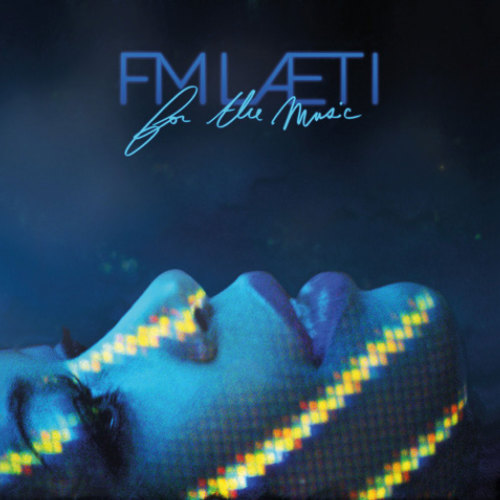 For The Music (2014)
For the second act, FM LAETI shifts gears and accelerates. Her new album leans on radiant pop tones laced with keyboards. resolutely energetic, this album is one you can listen to as much as dance to.
At the end of 2012 and the beginning of Spring 2013, in order to write the next chapter of this beautiful story, the team FM LAETI : Laetitia, François-Marie and Pierre-Marie, producer and founder of Pigalle Production recluses in Provence for two creative retreats. In this new adventure, everyone eased into their roles. Laeti had written texts, François-Marie was on guitar or keyboard and Pierre-Marie accompanied them bearing the instrument of good fortune. They say " The pleasure of once again being reunited all three of us and being isolated from everything helped renew our inspiration." From that point, hours of improvisation and dozens of bits of melodies were saved on a portable road recorder. » Having returned to Paris, the trio listened and reworked what they liked.
Laeti raised her voice, and without losing what they were known for nor losing sight of its roots, the group changed gears. "The first album was resolutely soul, folk and acoustic. The second is more pop, colorful, orchestral with more current sounds and is intended to make its listeners want to move. We didn't turn our backs on what we had previously done since we still give a nod in the direction of old school, but we had fun playing and experimenting outside of our confort zone. with different kinds of tones, sounds and a variety of instruments."
All of our songs compose the different stanzas of a love story, it's joys, it's expectations, it's storms, it's shortfalls and the desire despite the struggle, to start over. A positive desire. As YOU INSPIRE ME, it is a slow love declaration. It is also an expression of love that can be shared through music.
« This album was also a chance to be able to work with Marlon B., the co-director of the album with FM. Marlon is also a drummer, he knew how to offer a much more elaborate rhythmic approach than was found in our demos.
Like him, numerous talented musicians progressively joined around this second FM LAETI project to lavish us with their advice. at the top of the list, mid summer of 2013, Christophe "Disco" Minck opened his studio, Kraked Unit, to the team, a magic space he shares with Loïk Dury, his partner-in-crime who also lent an attentive and caring ear to our songs as did Jean-Max Méry (keyboards), Ludo Bruni (guitare), Fred Avril and all the others. »
TRACKLIST
01 - WANNA DANCE
02 - (DOESN'T HAVE TO) BE THAT WAY
03 - FOR THE MUSIC
04 - YOU INSPIRE ME
05 - THE NIGHT HAS BEGUN TO CALL
06 - TELL ME A STORY
07 - PING PONG
08 - RUN, RUN, RUN
09 - WE GO SLOW
10 - SANCTUARY
11 - ROCK MATATA
12 - THE COVE